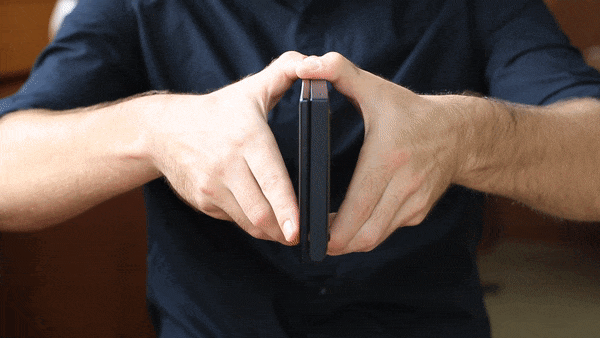 Peakago packs 3 modes to make working remotely ultra-productive;
definitely for real!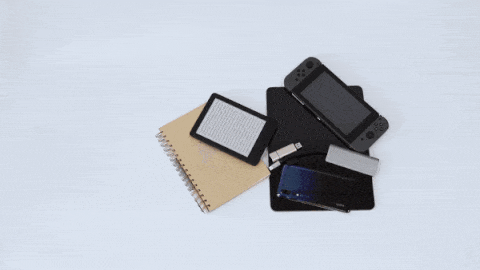 Compact and light, yet packing the power to help you get work done like you would on your regular-sized laptop, Peakago delivers:
Laptop brilliance WITHOUT the bulkiness and tablet portability WITH awesome connectivity

It's always been our ambition to create brilliant tech for great value for money prices that everyone can afford. We've been developing innovative computer technology for over 10 years, having worked on OEM and ODM projects for major brands. Then we decided to build our own brand where we could offer great performing products direct to customers for less.
We're delighted to work in partnership with
We sell direct to customers from our factory, so we save money on sales channel fees and advertising costs, passing on these savings to you, our customers, in the form of lower product prices.
That's not to say that we can afford to be selling something as advanced as Peakago for the great value price we're offering here forever. All good things come to an end, so be sure to get your Peakago at this amazing price while you can! Like now!.
Peakago measures-up at 181mm x 113.6mm x 19.6mm. That makes it incredibly light and easy to carry around wherever your work takes you.
Use it on the train and the plane. The bus, in the park, hotel or coffee shop.
It fits into pockets or bags like a paperback book (remember those?). So you'll barely notice it's there when you're carrying it around. Imagine, no more strain on your back, arms or shoulders like you get when you try and carry some laptops around.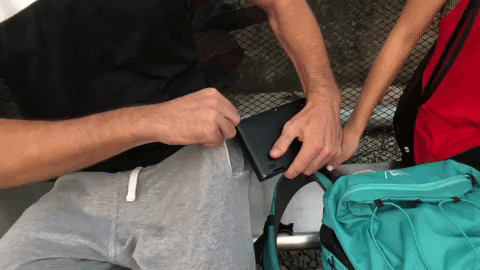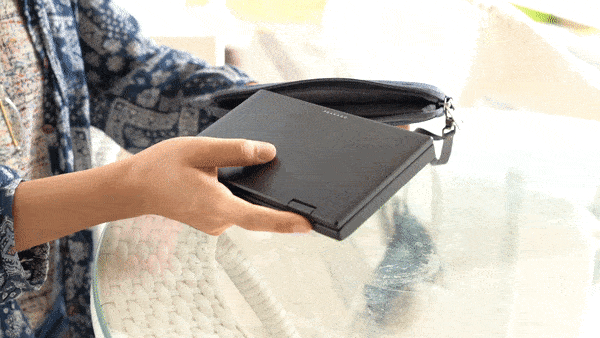 Peakago's built-in 4G connectivity lets you check and send emails, update your Facebook status, find out the sports scores, stream Netflix and movies wherever you may go.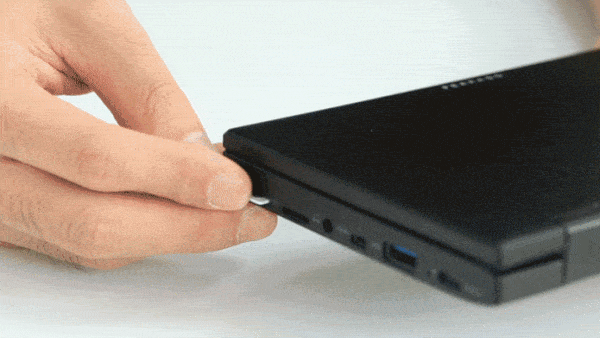 If work takes you somewhere with a dodgy WiFi connection, Peakago's 4G module means you needn't be without the internet, as it will give you a stable connection wherever you are, so the work or movie-watching can go on, while others without Peakago get frustrated by their loss of WiFi.
Smartphones and tablets are great, but they're not the most work-friendly devices. Peakago is just as portable but way more convenient for getting important jobs done as it features Windows 10s*. So whether you need to prep a presentation, edit a document, or design a whole brochure from scratch, you can do it all using MS Office software with Peakago. And typing is so much easier on Peakago compared to your smartphone as there's a real keyboard.
*Upgrading to the full Windows 10 version is easy. Just head over to the Windows Store.
Because we know you'll love your Peakago so much that you'll want to protect it, the laptop has its very own carry bag into which Peakago snugly fits. Available in Black or Navy Blue, the carry case features handy sections for important cards, documents and cash, and of course, just the right amount of space for your Peakago. So just pack and go!
*Upgrading to the full Windows 10 version is easy. Just head over to the Windows Store.
There's no compromising on anything with Peakago, especially the quality of the screen image. Enjoy eye-catching colors and 178º wide viewing angles, so if you're showing someone else what's on your screen, they can see easily and enjoy the accurate color rendering.

The lack of ports that allow universal connectivity is one of the shortcomings of using phones and tablets for work. Peakago overcomes this, by providing those ports so you can easily:
Copy files
See your presentations on projectors
Access the internet anywhere
Take your entertainment experience to a higher level.
Tired of carrying around bulky AC adapters with your laptop? We hear you. And we give you Peakago, the laptop you can power-up using the same kind of chargers you use for your smartphone. You can also use your regular powerbank for Peakago, not something you can do with most laptops.
Nevertheless, Peakago can be powered just by your regular power bank, for multiple times before you need to charge your power bank, which makes it easily the easiest efficiency tool to travel with!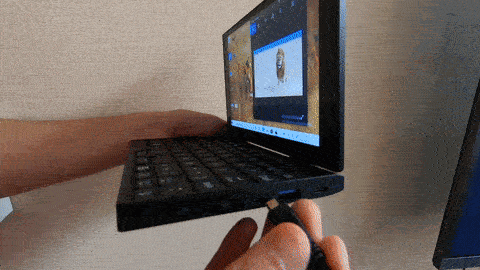 The ease of using it on the go will make you never want to lift a full-sized laptop again. PC-level performance meets tablet mobility to let you multitask with ease. Peakago is the most affordable 7" Windows PC for class, work, and life.
It'll be no problem if the in-flight movies are ones you've seen before, or if your train gets delayed. If you've packed your Peakago, you'll have a whole world of entertainment at your fingertips.
Music, Shows, Podcasts, Games, Movies.
Travel happy, knowing your Peakago can deliver all the entertainment you need for your journey.
Ever found yourself tapping the screen of your laptop to try and interact with it? Most people expect their devices to have touchscreen functionality, yet most laptops don't. Frustrating.
Of course, Peakago has a touchscreen, so you can interact with it just like you would with your smartphone or tablet.
Peakago has its own camera, so you can be part of video conferences or chats with friends wherever you are. And if you happen to be sitting next to someone famous on the plane or train, don't miss that selfie opportunity.
Peakago has two high-quality bui lt-in speakers, so you can hear and be heard during those conference calls and watch movies, play games or listen to music with crisp clarity in immersive sound experience.