PRODUCT DESCRIPTION:
The opening of the tent is automatically operated in lest than 5 seconds thanks to 4 ALKOS toggle jacks, assembled on kneecaps operating linked arms and protected by a canvas cover.
The closing is operated in less than 15 seconds by a unique person. A bilt in rubber band incorporated to the canvas keep it retracted in the hard shell during the closing.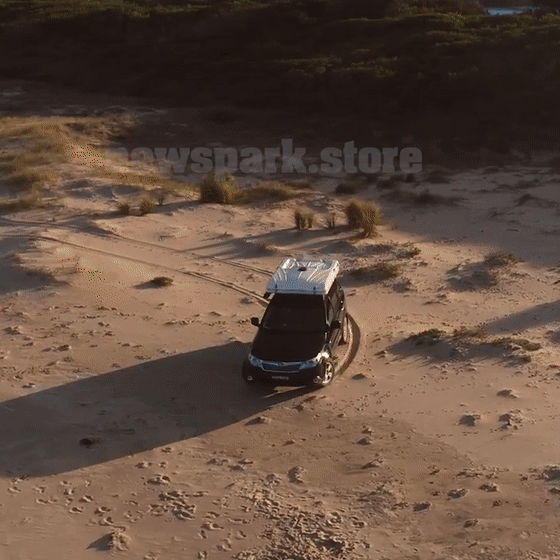 Hard shells
Manufactured of fiberglass fortified polyester, the bottom hard shell has planned spaces to hold the aluminium ladder;
This ergonomic ladder is slidding in order to fit to the size of the vehicle and is shipped with a storage cover. (See picture at bottom).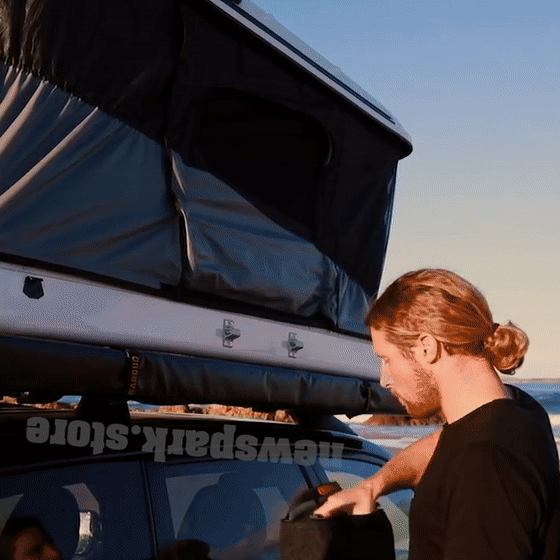 2 entry vents equiped with dust filters improve the air circulation inside the tent.
The top hard shell, also made of fiberglass fortified polyester is kit out with a spoiler in order to improve the penetration in the air.
The closing of the hard shell is performed by 4 made to mesure anchorpoints that fit onto a guaranteed locking system.
All the bolting is stainless steel.
2 aluminium rails set into the bottom hard shell and 6 fastening flanges guarantee the fixation to the vehicle's roof with 8M screwthread bolding and self locking nuts.
Canvas
Dark grey canvas made of 6 aluminized coats that reflect the sun's rays, UV resistant, 100% waterproof, but allow the air to circulate.
All seams are doubled et 100% watertight.
The canvas is fixed on built in wire cable into aluminium slides bent towards the outside of the hard shells (in order to avoid infiltrations), for an easier dismantle or for an extra storage on the roof.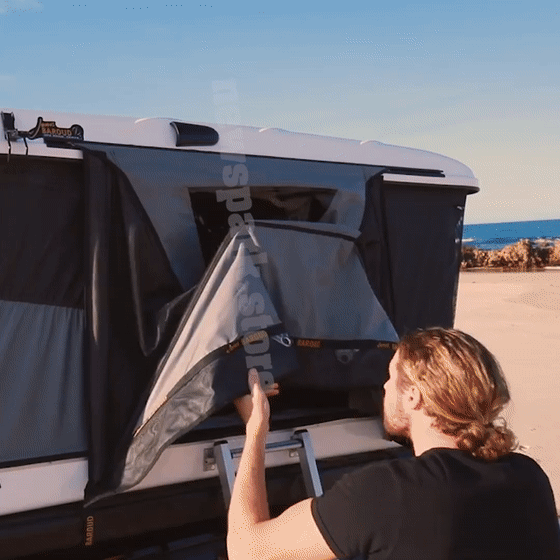 Inside, a high density foam mattress is provided with a heavy duty zipped cover . Dimensions: 140 x 198 cm ( 55,10" x 78" )
2 removable pockets and a storage net on the ceiling.3 zipped canvas doors with a dobble slidder, fitted with insects screening and velcro on the bottom of each door.
A window with an insect sreening in integrated to the back door with an eave to protect from the rain. (see picture)
Lighting:
The indoor lighting is provided by a rechargeable torch with 220 volts and 12 volts supplied plugs.
Design to be tough with a belt clip, it is esay to store.
15 led (light emitting diod) high intensity light and a focussing reflector allow a lighting with optimal brightness.
This torch has an unbreakable polycarbonate lens and a level of charge indicator.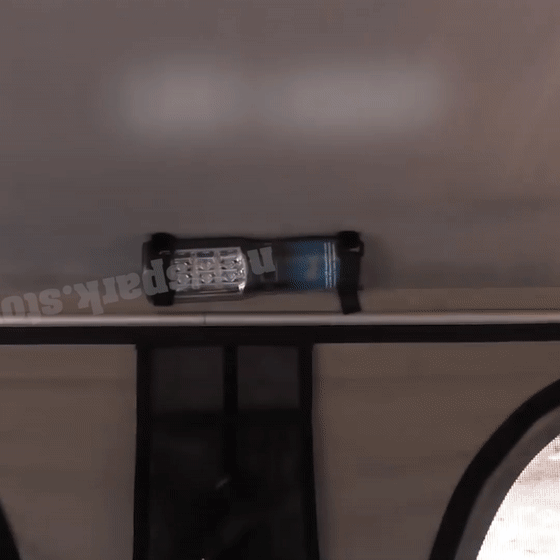 Ventilation:
An automatic and silent MCV (motorized controlled ventilation) is supplied by a 24 hours life battery wich can be recharged by an integrated solar panel kit. This MCV has a capacity of 11.6 M3 / mn (2905 UK gal/mn) and prevent from all condensation and drain off the stored heat to avoid moisture and mould. A second propeller with reverse blades is supplied to act as a fan. The exchange of blades is performed from the inside of the tent.